The Kurrajongs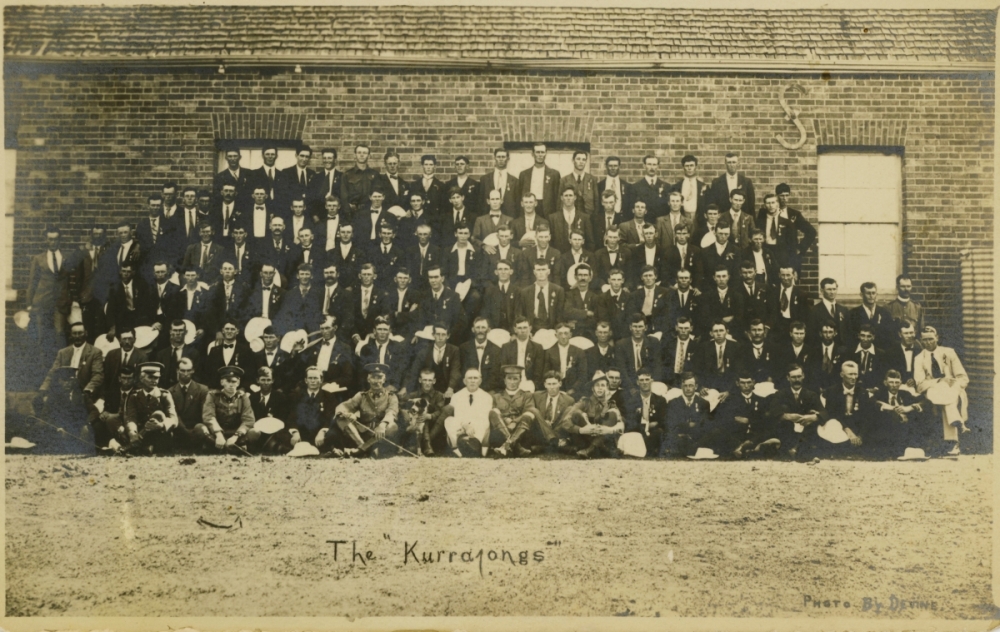 ---

READ ARTICLE from the Inverell Times, 11th January 1916 – "The Kurrajongs" – Swelling the Ranks
---

On the 12th January 1916, inspired by a broader recruiting march across regional NSW, one hundred and twelve enlistees left Inverell by train, commencing a journey which would eventually take them overseas to fight on the battlefields in France as part of the 33rd Battalion AIF.
This group of recruits was dubbed "The Kurrajongs" after the evergreen, native trees scattered throughout the district. This was the largest, single contingent of volunteers to leave a country town.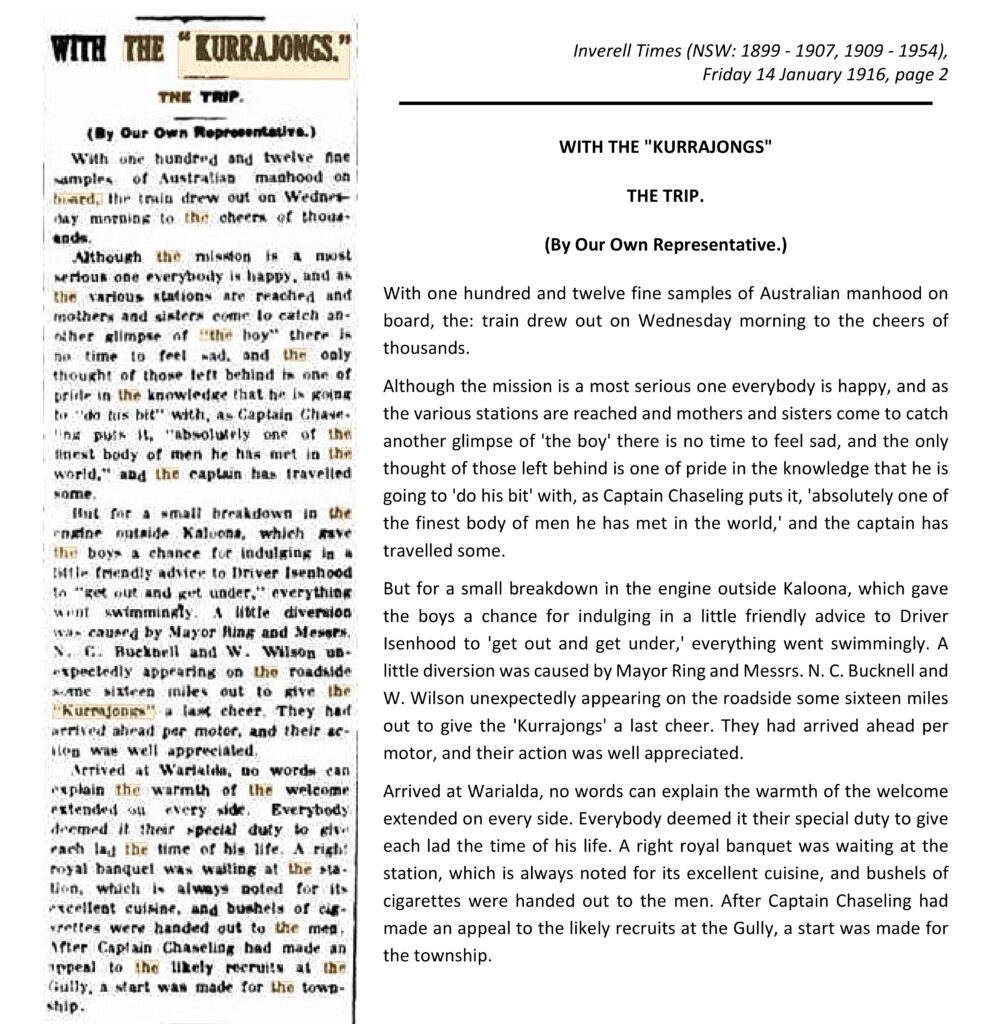 Kurrajong Parade
Images Glenn Williams 16.11.2022
This double row, avenue of trees, is within a large open space area known as the George Cartwright VC Reserve, bordered by the Gwydir Highway (Glen Innes Road) on the northern edge and the Macintyre River below. The Kurrajong Parade extends some 560 metres west from the Clive Street intersection.
The original parade of 178 Kurrajong trees (Brachychiton populneus) was first planted on 6th September, 1919. Each tree honouring a man from the Inverell district, one of the "Kurrajongs", who paid the supreme sacrifice whilst serving overseas, during the First World War. Further names were submitted and eventually 215 trees were planted for this living memorial.
The local council arranged for the soldiers to be honoured with a living memorial, knowing their relatives could not visit graves in distant lands.
It was hoped the Kurrajong Parade would keep evergreen, the memory of those that had perished.
Redevelopment of the Living Memorial Site
Strong community partnerships led to the redevelopment of Kurrajong Parade, which was officially opened on ANZAC DAY 25th of April, 2005, by Brigadier Gary Bannister, Chief of Staff Joint Logistics Command.
The following year the Inverell Apex Club built the Kurrajong Memorial.
Images Glenn Williams 16.11.2022
The World War 1 Gun, captured by the 33rd Battalion and presented to Inverell, was relocated to this site.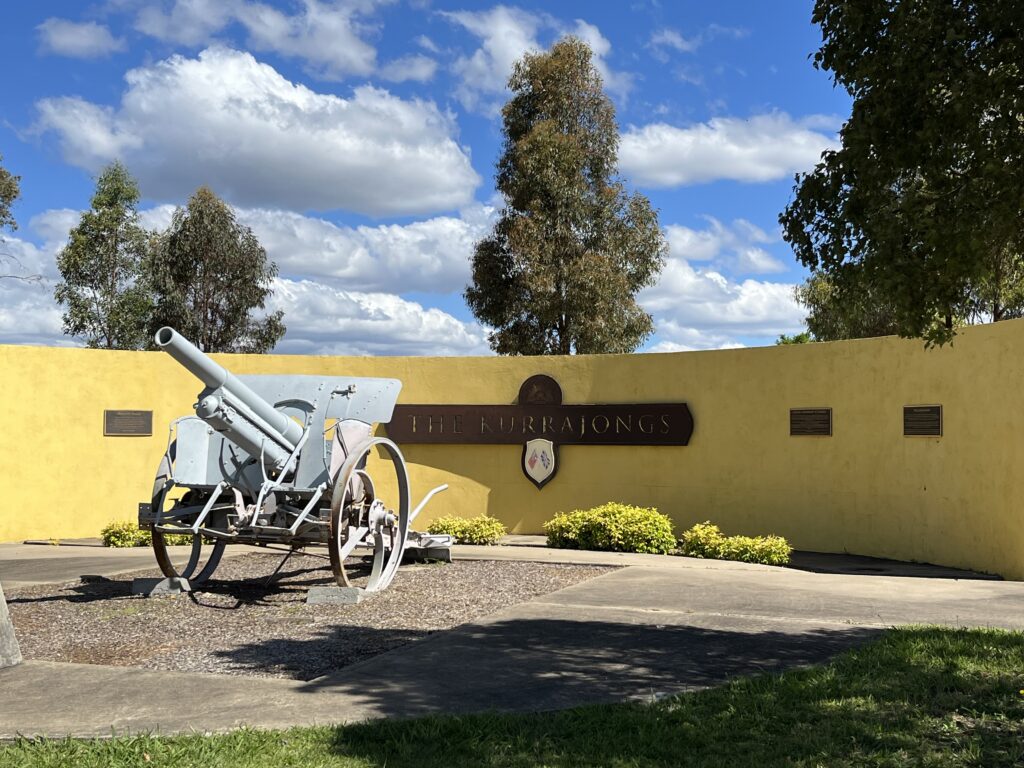 Subsequently Inverell Shire Council refurbished the large metal poppy sculpture and placed it near the Apex memorial.
Further Information
The following is highly recommended:
Established after formation of The Inverell Kurrajong Re-enactment Committee Inc in late 2013, this website provides a comprehensive resource in recognition and commemoration of the Inverell District's contribution to Australia's involvement in World War 1.
Inverell Memorial Grove – dedicated to district soldiers killed in action whilst serving with the 2nd AIF during WW2 and those serving in Vietnam.