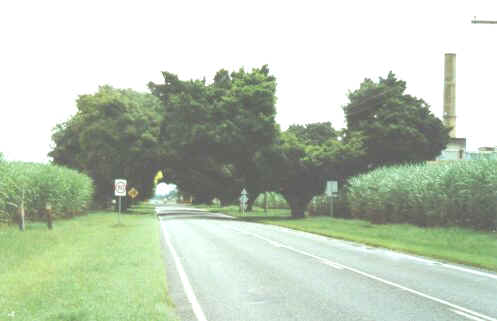 The original Pleystowe Avenue of Honour was planted by the RSL and dedicated on Anzac Day in 1948 as an acknowledgement of the sacrifice made by 10 Walkerston and Pleystowe soldiers during World War II WW2. Pleystowe is approximately 20km west of Mackay, Queensland.
The group of 9 Weeping Figs (Ficus benjamina) was formerly located along the Mackay-Eungella Road, Pleystowe.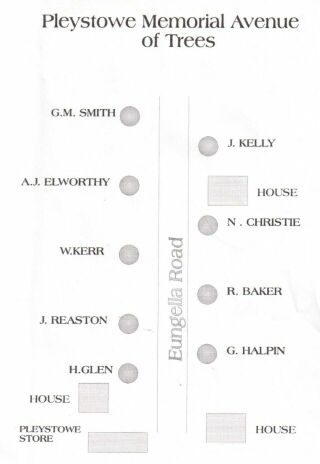 5 trees had been planted on the north side of the road and 4 on the south side in an alternating arrangement as a double row of trees.
Original timber plaques were replaced by white metal boards with black lettering on star pickets at an unknown date.
In 1996, the trees still quite healthy, the labels were replaced by black wooden framed plaques with white lettering attached to the trees.
One tree was replaced in 2000.
Over time, the pressures of regular vegetation clearance for powerlines, heavy rains and accompanying storm damage and some trees suffering from Brown Root Rot (detected in 2009), a decision was made to remove trees in the interests of road safety.
Pictures: Stuart Quinn
Source: The Courier Mail, May 30 2018
The Mackay Regional Council organised to have the trees cloned, grown on as semi-advanced trees and finally planted along the entranceway to the historic Greenmount Homestead, to better preserve the commemorative association with those honoured by the original avenue. Each tree has an accompanying plaque.
The dedication of the replacement avenue occurred on 11th November 2012 (Remembrance Day).
Honour Roll
Name
Memorial Tree
Memorial Plaque
Junior Engineer Officer Geoffrey HALPIN
Cable Ship SS Faraday, Merchant Navy
Born 8 March 1918, Nambour, QLD
Occupation prior to the merchant navy
– engineer at the Pleystowe Mill.
Parents: John (Jack) Lewis and Minnie Halpin
Missing presumed killed 26 March 1941
English Channel
Aged 23

Q270857 Private Vivian James REASTON
58/59 Infantry Battalion AMF
Born 31 Jul 1924
Mother: Lillian Reaston
Enlisted 30 April 1943, Redbank, QLD
Killed in action 9 June 1945, Bouganville Island
Aged 23


(The Baker Brothers – see below)
QX13247 Ronald George BAKER
22nd Company Australian Army
Born 2 July 1920, Mackay, QLD
Parents: John Henry and Janet Pirie Baker
Enlisted 12 July 1940, Mackay, QLD
Died of illness as a POW 1 October 1943, Burma
Aged 23
405670 Sergeant William John BAKER
27 Operational Training Unit
Royal Australian Air Force
Born 2 November 1921, Mackay, QLD
Parents: John Henry and Janet Pirie Baker
Enlisted 24 May 1941, Brisbane, QLD
Accidental death 20 November 1942
Staffordshire, UK
Aged 21

QX25924 Private William Joseph KERR
14 Garrison Battalion Australian Army
Born 26 September 1921 Mackay, QLD
Parents: Robert and Catherine Kerr
Enlisted 8 January 1942
Died 24 May 1942
Aged 20
QX8389 Corporal Neil McNaughton CHRISTIE
2/3 Australian Ordnance Stores Company
Australian Army Ordnance Corps
Born 19 February 1905, Merrylands, NSW
Parents: Richard Bruce and Isabella Campbell Christie
Spouse: Gwendoline Christie
Enlisted 16 June 1940, Rockhampton, QLD
Died of illness as a POW, 5 June 1945, Borneo.
Aged 40

QX33560 (Q130620) Private Alan James ELWORTHY
15th Australian Infantry Battalion
Born 14 May 1923, Mackay, QLD
Parents: Charles Henry and Ivy Winifred Elworthy
Enlisted 16 December 1941, Mackay, QLD
Killed in action 26 December 1944, Bougainville
Island
Aged 21
Pilot Officer Geoffrey George Minchin SMITH
105 Operational Training Unit
Royal Australian Air Force
Born 8 September 1921, Nambour, QLD
Parents: George Minchin and Mary Jane Smith
Enlisted 14 August 1942, Brisbane, QLD
Accidentally killed 29 April 1945, England
Aged 23
QX18710 Private John Patrick KELLY
2/12 Infantry Battalion Australian Army
Born 23 May 1913, Kilderry, Ireland
Parents: Michael and Norah Kelly
Spouse: Mary Kelly
Enlisted 15 May 1941
Killed in Action 1 January 1943 Papua New Guinea
Aged 29
Images: Glenn Williams, 08/10/2022
Hosted by the Walkerston and Pleystowe RSL Sub-branch, along with Mackay Regional Council, the dedication of the replacement avenue occurred on 11th November 2012 (Remembrance Day).
122 ACU (Army Cadet Unit) was well represented and there were also members of the T.S. Pioneer Cadet Unit there, standing guard at trees, where appropriate i.e. the serviceperson being honoured was in the Navy