The western mallee settlements of Chandada, Tootla and Inkster, showed support for their local lads who had enlisted to serve during WW2, by establishing Trees of Tribute on the 16th of August 1940, at Chandada. Further plantings were added in 1941 and 1942.
These Eucalypts were planted at the intersection of the east-west, Streaky Bay-Poochera Road and the southern road to the settlement of Inkster; one row on the northern side of the Streaky Bay – Poochera Highway, another along the western verge of Inkster Road.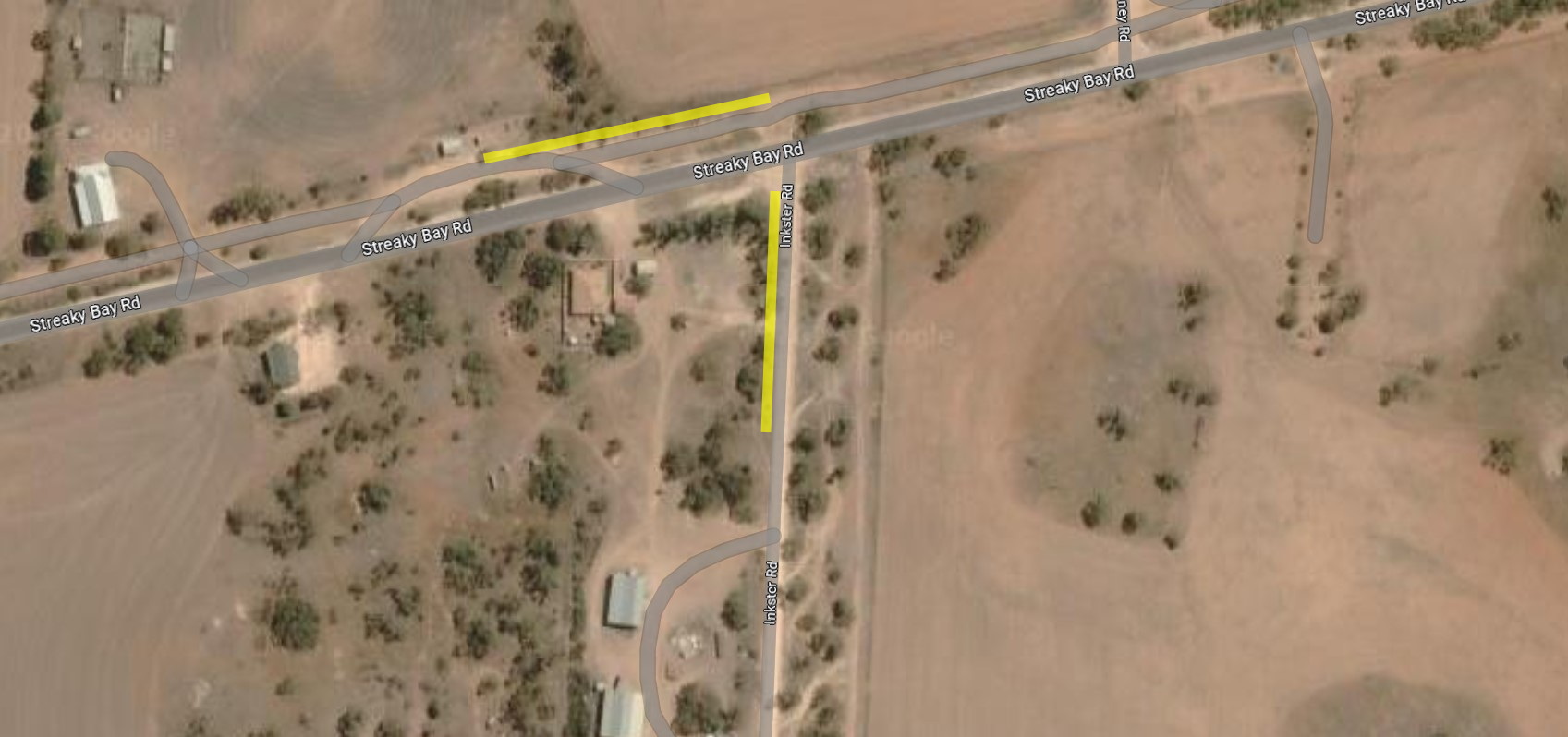 The newspaper, The West Coast Sentinel reported that on 16 August 1940 an 'Arbor Day' was held "at which the children from the Tootla and Hundred of lnkster schools collaborated with those from Chandada, in planting trees of tribute for those who had enlisted from the district. (sic) Trees were planted for A. P. M. "Sandy'" Ross, Herbert Higgins, Arthur Higgins, George Evans, H. W. G. Nettlebeck and W. R. Thompson" (CHANDADA West Coast Sentinel, 23 August 1940, p. 1).
In 1941 the newspaper reported that "four trees of tribute were added to the eleven previously planted for members of the fighting forces connected with this district. The trees were for Sgt. Carbery, Ptes. R. Horsell and D. Fletcher, and the late L.A.C. E. O. Milford. who was head teacher at Tootla School"
(TRIBUTE TREES AT CHANDADA" West Coast Sentinel (Streaky Bay, 15 August 1941, p1).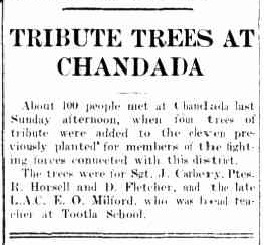 In 1942 a further seven trees were planted, making a total of twenty-two trees at the site. This planting was dedicated to Pte. S. Bryant, AC J E. P. Anderson, Ptes. E. Horsell, E. Irvine, 11. Irvine, K. Miller, and J. Mudge. The newspaper also reported that "before the trees were planted, Mr. R. Ross asked that a minute's silence be observed in memory of the late LAC E. O. Milford and L. Cpl. Harry Nettelbeck, who had made the supreme sacrifice and to whom trees were already growing. Mr. Ross also referred to two boys who had been reported missing: Pte. George Evans, of whom no definite news had yet been received, but word of whose safety was anxiously awaited; and Sgt. Wireless Airgunner W. R. ("Bill") Thompson, who, after being reported missing for three months, was now known to be a POW: A message, expressing pleasure felt by all those present at the news of Bill's safety was sent through Mr. Ross to the Thompson family."
(TREES OF TRIBUTE AT CHANDADA, West Coast Sentinel, 20 November 1942, p. 1).
Instrumental in galvanising support to establish the Trees of Tribute, was local leader and community champion, Ranald Ross. Ranald owned the Chandada Store and Post Office.
Images courtesy of Carol Hughes
Top left: Ranald Ross (kneeling at the left, beneath the tree-guard structure), helping to plant the first tree ,to honour his son, APM "Sandy" Ross.
Top right: Ranald Ross (2nd from left) along with three other proud members of the community.
Bottom left: School children helping to plant the trees ("Sandy" Ross' younger sister Jean, likely to be one of them). [Jean Ross remembers helping her grandfather water the trees on a regular basis, after the planting] – Pers Comm Carol Hughes (daughter of Sandy Ross)
Bottom right: Quite an occasion for the local community, they gather to hear the speeches.
A tree had also been planted for Harry Nettelbeck, a school teacher from Yantanabie. Harry Nettelbeck was an uncle connected to the Ross family. He died during the war in 1941.
The names of all those for whom trees were planted are listed on an Honour Roll which presides in the Chandada Hall. Their names are also mentioned in the Sentinel articles. There is a plaque in a small enclosure at Chandada in honour of L.A.C. Milford EO RAAF, killed 12 July 1941, erected by his friends.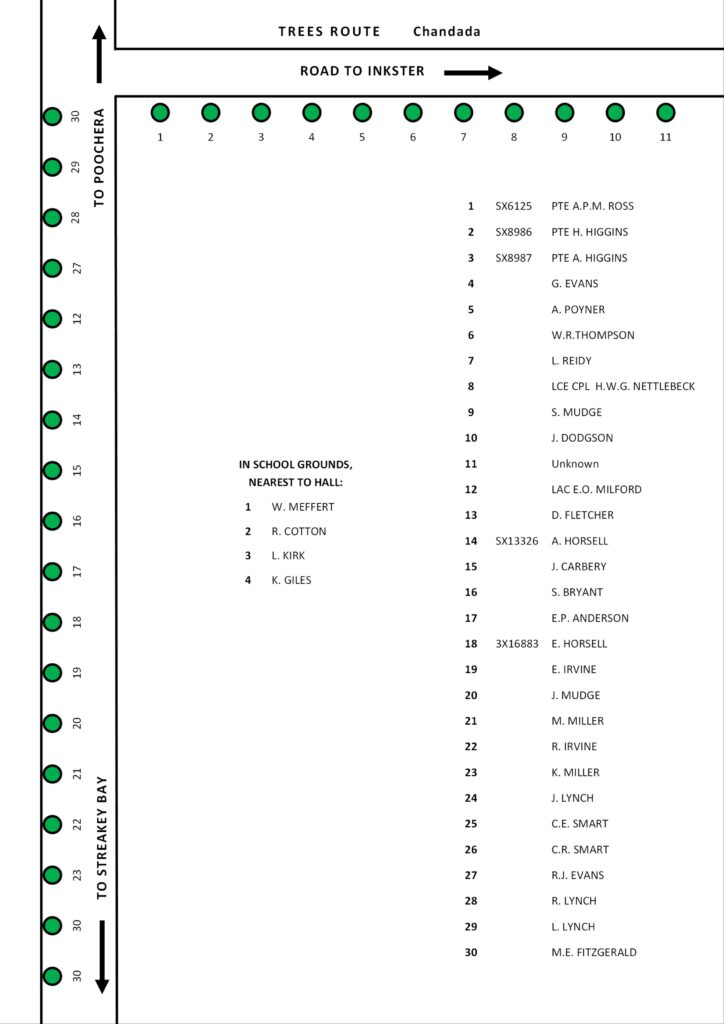 CLICK HERE to view/download a list of those honoured by Chandada's Trees of Tribute.
Due acknowledgment must go to Carol Hughes (nee Ross), granddaughter of Ranald Ross, who first approached TREENET's Avenues of Honour project in 2015. Her tireless campaign to have this living memorial site duly acknowledged, has finally paid off after many enquiries, interviews and submissions to relevant state and government authorities. Finally, with enthusiastic support from the local Streaky Bay RSL and volunteers at the Streaky Bay museum in more recent times, coupled with a successful application made to the Streaky Bay Council's "Community Grant Scheme", the Trees for Tribute site is now signified by a plaque, mounted on a large rock. The modest funds contributed to the cost of having this brass plaque produced, and a local quarry owner, donated the stone upon which it is fixed.