The War Memorial Site
The Mylor War Memorial was originally established to commemorate those who died in service or were killed in action in WW1 and unveiled on Saturday 25th February 1922.
Exhibiting the same post WW1 resolve and community spirit of earlier generations, inspired by the Mylor History Group and supported by the Mylor Community, a War Memorial Restoration project took place during 2004 – 2016. This would favour traditional observance of key events, such as Remembrance Day.
The original granite monument was first removed, restored and re-installed in its new position along with the erection of a flagpole. The first ANZAC Day Dawn Service for over 40 years was conducted in 2007. All original hedges have been replaced with Gallipoli Rosemary, including the raised beds flanking the paving leading up to the War Memorial.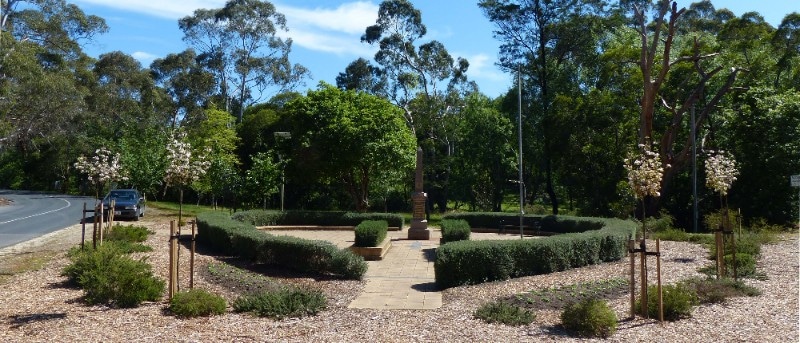 The Living Memorials
Appreciating the significance of living memorials to commemorate those who served, sacrificed and suffered, the planting of six Bechtel Crab Apple trees and installation of individual plaques took place in 2013 to honour local citizens who died during WW2.
Honour Roll
Name
Memorial Tree
Memorial Plaque
SX1964 Sergeant Ian Allister McGregor CAMERON
2nd/31st Infantry Battalion
Born 1st November, 1907
Parents – Donald and Annie Cameron – Bradbury
Occupation before enlisting – Labourer, Adelaide Silicate Company
Enlisted in Adelaide – 9th March 1940 – served in Middle East.
Killed in action 18th June1941 – Aged 34
Buried – Beirut War Cemetery, Lebanon.
SX4619 Signalman James Stanley HEIGHT
AIF —7 Divisional Signals Company
Born Manchester, England 28th May 1912
Mother —Lily Height, Mylor (later Albert Park)
Occupation before enlisting – Hotel worker
Enlisted in Adelaide 6th June 1940 – served in Middle East
Killed in Action – 24th July 1942 – Aged 30
Buried – Woombye Cemetery, Queensland
SX10986 Private Lancelot Sydney Yelf MEREDITH
2/2 Reserve Motor Transport Company
Born – 17th April 1917
Father – Leonard Merdith – Mylor
Occupation before enlisting – Driver
Enlisted in Adelaide 17th January 1941 – Served in Malaya
Missing, presumed lost at sea (Rakuyo Maru), South China Sea, 13th September 1944 – aged 27
SX23181 (S43589) Craftsman Clement Alick Charles RABY
2/123 Brigade Workshop
Born 7th June 1921
Parents – Charles and Lorna Raby – Rosewater, SA
Occupation before enlisting – Labourer
Enlisted in Belmont, VIC, 6th July 1942 – Served in New Guinea
Died of wounds – 26th November 1943 – Aged 22
Buried – Lae War Cemetery, New Guinea
SX13169 Corporal Keable Sykes ROBERTS
1 Company AASC Rifle Platoon
Born 4th October 1915
Mother – Lorna Roberts – Mylor
Occupation before enlisting – Lorry and tractor driver
Enlisted in Winkie, SA 19th December 1938—Served in Malaya
Killed in Action, Singapore – 11th February 1942 – Aged 26
2423 – Private WILLIAM ERNEST NIELSEN
No. 24 Squadron (RAAF)
Born 8th October 1924
Parents – Rich and Mary Whitehead – Jervois, SA
Occupation before enlisting – Farm labourer
Enlisted 11th November 1942 – Served whilst in Australia
Killed on mission from Truscott airstrip, Vansittart Bay, WA – 23rd March 1945 – Aged 20
Formal dedication of the memorial trees and plaques occurred in the presence of the descendants of the six WW2 servicemen, on Remembrance Day, 11th November 2013.