During the early years of the Second World War, Jarrahmond Red Cross group was formed. After the war the close knit group continued on as the Jarrahmond Social Club. In 1947 they gained approval from Orbost Shire Council to plant an avenue of trees in memory of Jarrahmond School's former students who served in both wars.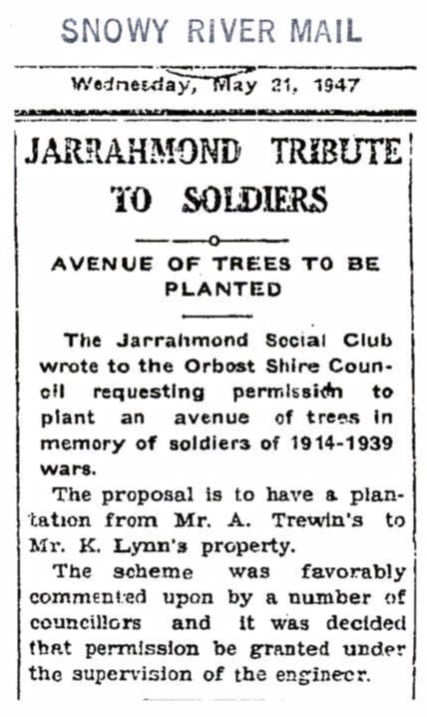 The Jarrahmond Avenue of Honour, Victoria, was finally established in 1955, after a flood in the late 1940s ruined the first attempt to commemorate former staff and students from the Jarrahmond State School who served in WW1 and WW2.
WORLD WAR ONE
Jarrahmond State School 2745 was built on the banks of the Snowy River on Thomas Stapley's property 'Jarrahmond'. It opened on 19th March 1886. After a massive flood in late 1893 it was pulled down. Rebuilt further upriver near Hector McLeod's farm, it reopened in 1895. Students lived on both sides of the Snowy and many rowed across to school. In 1912 Bete Bolong school opened across the Snowy and student numbers dropped.
Jarrahmond State School Honour Roll, 1914 – 1919 lists 33 former male and female students and 2 former teachers who served in WW1. Seven men lost their lives. William Harris died at Gallipoli on 25th April 1915. James Moysey died on 7th August 1915 at Lone Pine. Five were killed on the Western Front: George Austin, William Gunn, John Johnston, Ted Perry (teacher) in 1917 and Murdoch McLeod in 1918.
WORLD WAR TWO
Servicemen, 1939 – 1945. 15 former students of the Jarrahmond School served in WW2: 9 in the Army, 4 in the Air Force and 2 in the Navy. Two of them lost their lives: John 'Mac' Russell in 1942 and William 'Bill' Lynn in 1944.
In 1955 the current site was chosen to link the properties 'Fairleigh' and 'Greendale' which were home to Bill and Mac. English Oaks were interplanted with flowering peaches and cherries.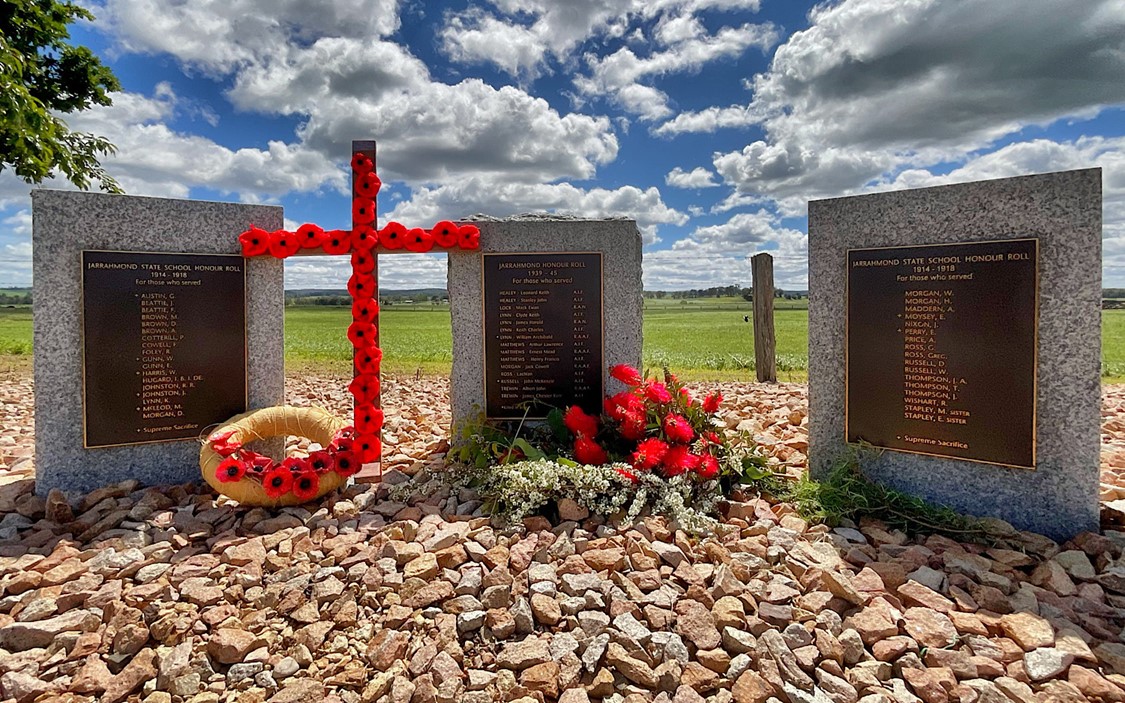 Orbost RSL Sub-branch dedicated the WW2 commemorative plaque in April 2002 with a DVA grant 'Their Service, Our Heritage'.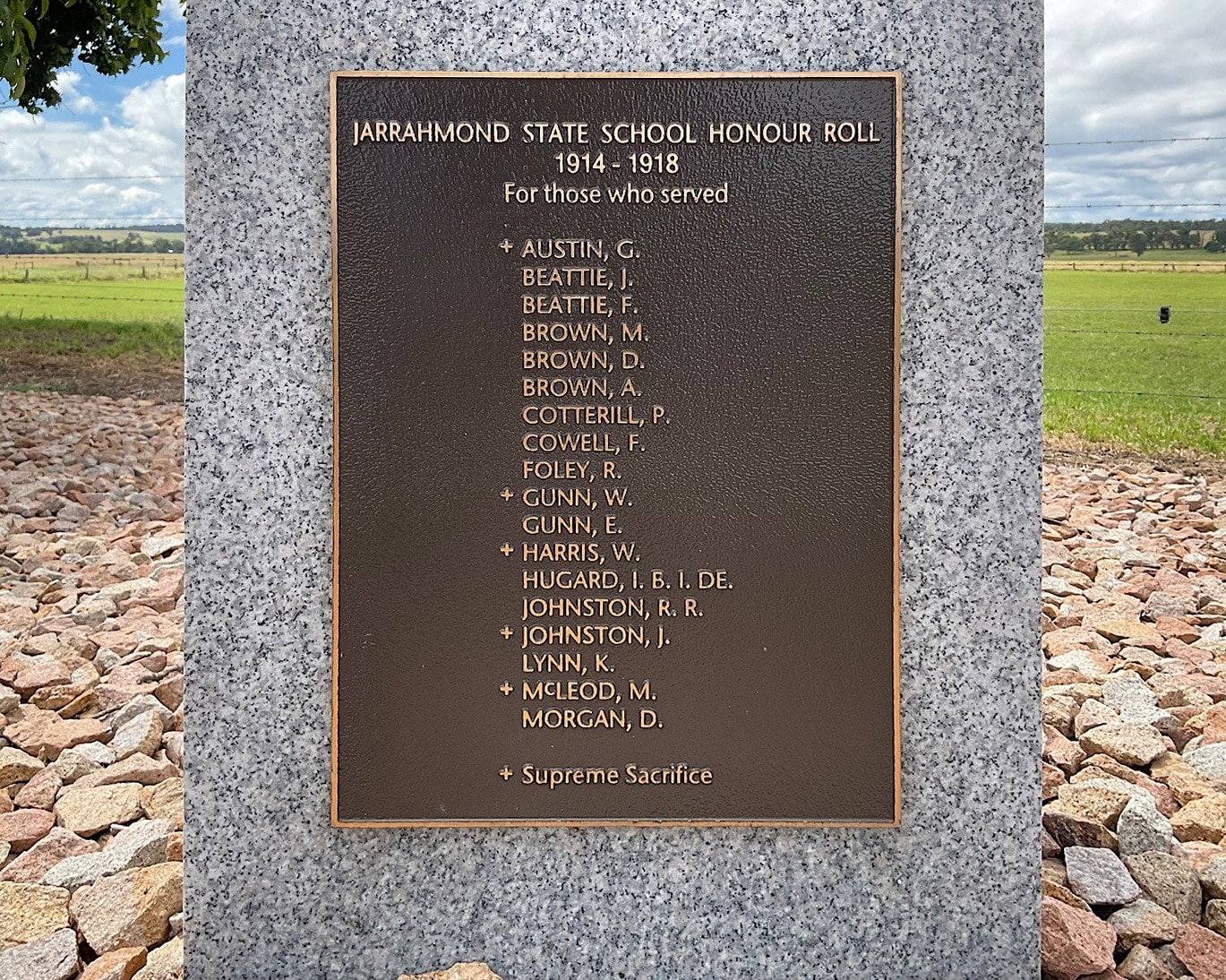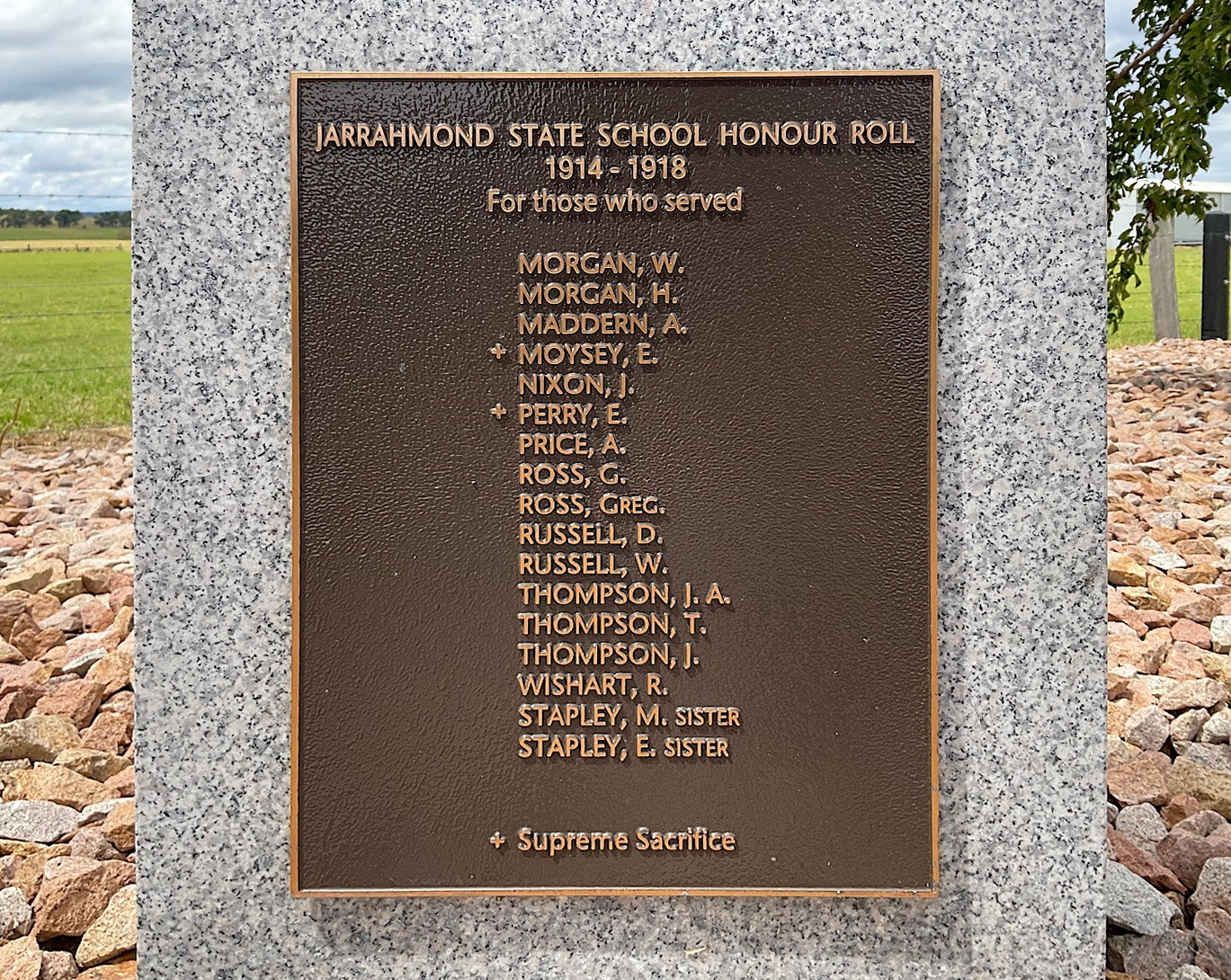 Jarrahmond Landcare Group dedicated the two WW1 commemorative plaques in May 2015.
Funding was through DVA's ANZAC Centenary Local Grant Program. The Honour Roll is heritage listed.
In 2014 -2016 Jarrahmond Landcare Group replaced the flowering trees which had died and maintains the Avenue in partnership with local families and Orbost RSL Sub-branch. The Avenue of Honour is heritage listed.